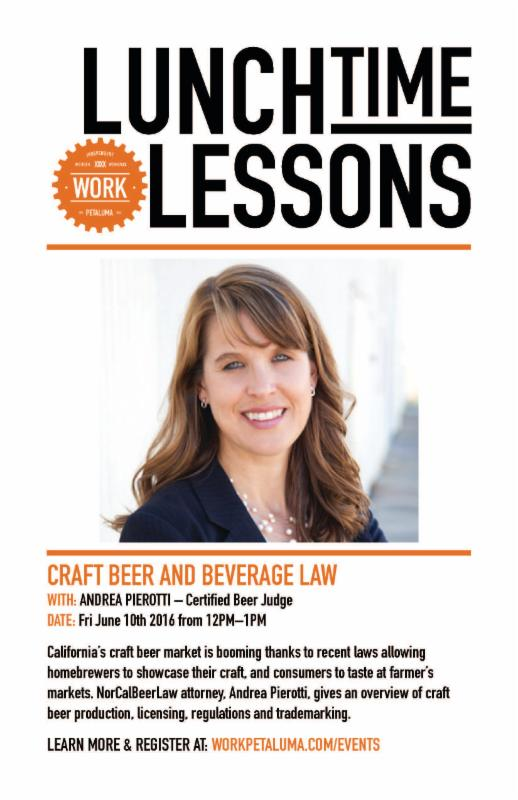 Lunchtime Lesson: Craft Beer and Beverage Law – FRI June 10th 2016
Friday lunch is a perfect time to take a break and learn about craft beer production, licensing, and trademarking. California's craft beer market is booming thanks to recent laws allowing homebrewers to showcase their craft, and consumers to taste at farmer's markets. But hurdles remain for producers of craft beer, ciders, and spirits to take product to market in California.
NorCalBeerLaw attorney, Andrea Pierotti, gives an overview of the tied house laws, regulations and opportunities awaiting homebrewers and craft beer producers in the wake of the repeal of Prohibition.
$10 at the door for Non WORK Members – help us keep the lights on and keep great programs coming your way! WORK Members FREE including Friends of WORK! (a special membership level for you regular attendees)
12-1 PM in the WORK Library.
Bio: Andrea Pierotti is a Petaluma native and craft beer aficionado. A transactional attorney dealing with business law and estate planning by day, Andrea judges craft beer contests on her way to becoming a Certified Beer Judge by night.
Turning her passion for craft beer into a legal enterprise, she has assisted local brewers and beer-related businesses navigate local laws, business and tax issues, ABC regulations, and business enterprises to help them grow from 5 gallons to 50 barrels without pause. She is a student of the Craft Beer Appreciation certificate program at Sonoma State University, and judges craft beer festivals like the BBQ, Blues & Brews on the Bay event in North Bend, Oregon.